Nombres y Apellido:
Pablo Bobrowicky
Guitarrista compositor
Fecha de nacimiento:
10/03/1967
Lugar: Buenos Aires, Argentina.

Web: www.pablobobrowicky.com.ar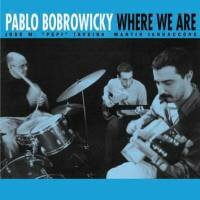 1994 Clases particulares con Jim Hall ( New York, E.E.U.U.)

1990 Escuela de música Popular de Avellaneda Instrumentista de Música Popular - Guitarra Jazz

Seminario de Ensamble Orquestal - Centro Cultural San Martín

1988-1989 Clases particulares de guitarra con Ricardo Sued y Ma. Concepción Patrón.

1986-1988 Clases particulares con Armando Alonso

1973-1977 Clases particulares con Walter Malosetti


Ha tocado con: Luis Agudo, Bobby Watson, Sam Newsome, Renato Chicco, David Marr, Norberto Minichillo, Walter Malosetti, Fats Fernández, Armando Alonso, entre otros.
1996 Pablo Bobrowicky "South of the Woríd" – Red Records, Italia.

1999 Norberto Minichillo "Baires Blue" – Red Records, Italia.

2000 Pablo Bobrowicky "Where we are" - Red Records, Italia.

2005 Pablo Bobrowicky "New York connection" - Red Records, Italia.